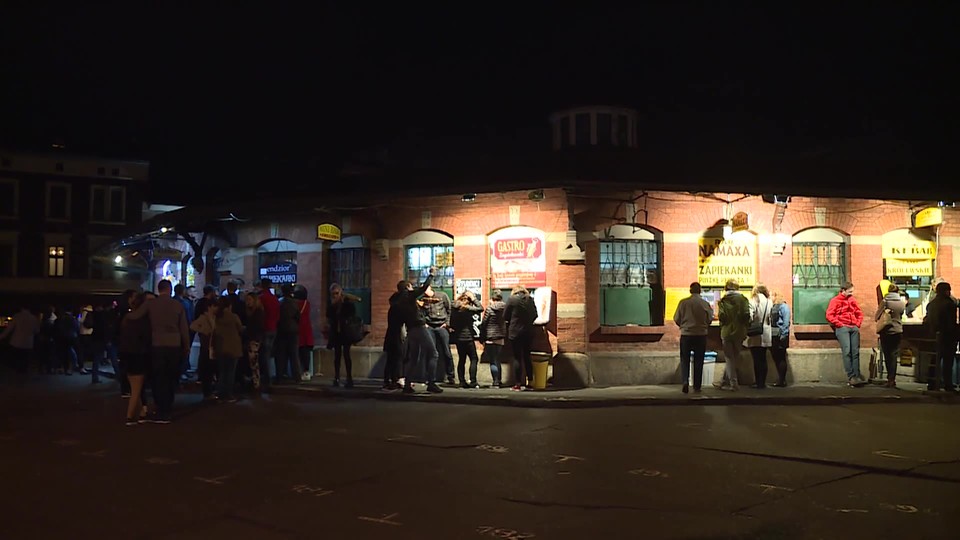 Nightlife in Krakow
Almost all of Krakow's nightlife takes place underground. In recent years, over a hundred underground premises have been built in a small area of ​​the Old Town: restaurant, beer hall, clubs and cafes. Applying some simplifications, this type of premises can be divided into English, Scottish and Irish pubs, traditional in decor and in terms of the offered alcohols. On the other hand, there are the so-called. underground pubs, about specific, a bit of a decadent atmosphere, emphasized by provocative interiors and music. This atmosphere is often co-created by young Krakow artists.
Pubs and bars
Bamboo Cafe
Main market 27
The interior is just right for lovers of old cinema, You can admire posters and photos of famous stars here. Bamboo is most popular in the summer, when it functions as an extremely nice garden with wicker furniture. Because of its strategic location, almost everyone meets here.
Black Gallery
ul. Mikołajska 24
Certainly it is not the decor, that crowds are drawn to the Black Gallery. The specific atmosphere of this place, experimental drinks are very popular among, let's say, a little older youth.
Fischer Pub
ul. Grodzka 42
A place like many others, with good types of beer, but with very loud music, which in the room on the ground floor effectively disturbs the conversation, while in the basement room it serves as an incentive to go out to the dance floor.
Free Pub
ul. Sławkowska 4
An attractive alcoholic pub open all night. There is a company of various types and ornaments, but no one is surprised, because the principle of being at ease applies here.
John Bull
ul. Mikołajska 2
A typical English pub with a good selection of the best beers, win i whisky. Pretty elegant, but don't worry – moderate prices. It used to be a place, which was dominated by talks about politics.
The Cellar Under the Garden
ul. Jagiellońska 6
Medieval cellar Under the Garden, besides his famous pancakes, proposes to spend the evening with a glass of good French wine and the sounds of a jazz concert. It is especially cozy here in winter, when there is a fire in the fireplace, in summer, the basement opens onto the street", to the adjacent yard to be exact.
Under the mistletoe
ul. Floriańska 20
A powerful mistletoe candle hangs from the ceiling of this peculiar place. And under the mistletoe? An atmosphere of nihilism and a general sense of decline. Psychedelic music fuels destructive moods. It happens, that around midnight you can't even get a pin in here.
Under the Parrots
ul. hospital 1 ul. st. Jana 18
Popular irish-pub, especially eagerly visited by foreign students studying in Krakow. Billiards for Jan, and at Szpitalna there is a disco.
Shakesbeer
ul. Pigeon 2
One of the first Irish pubs in Krakow. Due to its location, it is mainly crowded with studios, who are happily celebrating their successes here in the field of science.
To Louisa
Main market 13
A very fashionable place in Krakow at the moment. It just happens here, not only for that, to drink (the names of the drinks sound intriguing, just to mention "A white Russian", "Black Russian" or Godfather), or listen to a live jazz concert. At Louis, it is one of the first in Krakow "cybercafe". For a really low fee, you can use e-mail or the Internet here.
Open 11.00-23.00.
Jazz clubs
Jazz has settled in Krakow for good. The organizers of the annual Krakow events merit a lot in this, such as Jazz Juniors and Krakowskie Zaduszki Jazzowe. Besides, the most popular pubs are also owned by great musicians, performers and jazz artists.
Harris Piano Jazz Bar
Main market 28
Also known as New York Harris Pub. Every week, the attractive and tastefully decorated pub organizes a concert with jazz stars.
Jazz Club .U Muniaka"
ul. Floriańska 3
Here you can listen to Janusz Muniak performing the highest jazz standards.
Jazz Club Comet
al. Krasiński 19
The restaurant of the jazzman Andrzej Jakóbec has something of a jazz museum. Decorated with diplomas, posters and other gadgets, creates an unusual mood. Always on Fridays, and sometimes on other days as well, interesting concerts are held here.
Rotunda Club – Columbine
ul. Oleandry 1
Traditionally, Jazz Tuesdays are held at the Rotunda student club". Free admission.
Discos
The variety of dancing parties in the city is so huge, there should be no trouble finding dance floor and music. But that's not all. The level of some of the premises leaves a lot to be desired, because you cannot feel safe everywhere. The following suggestions are rather proven places.
Equinox
ul. Sławkowska 13 -15, codz. 11.00-2.30, disco music.
Chameleon Club
ul. Sławkowska 11, pt.,sb. 16.00-1.00.
Jupiter Club
al. 3 House 23, pt.-sb. from 21.00, muzyka techno / house, trance, drum & bass, electro.
Freedom FM Music Club
ul. Royal 1, pt., sb. from 21.00, dance music, house, soul. Admission from 18 lat.
Passion
ul. Shoemaker 5, nd" pn. 14.00-2.00; Tue-Thu. 14.00-3.00; pt.-sb. 14.00-4.00, funk, rock, pop, Poland and film. Admission from 21 lat, billiards.
Under the Rams
Main market 21, codz. from 16.00 to the last guest, music of the years 70. and disco news.
Under the Parrots
ul. hospital 1, codz. from 19.00, disco music. Admission from 21 lat.
Under the sun
Main market 43, pt.-nd., to the last guest.
Rotunda – Columbine
ul. Oleandry 1, Thu-Sat. from 21.00.
Old coach house
Main market 29
Underdiscox
ul. Berek Joselewicz 21, codz. 19.00-8.00, muzyka techno, house, neo-disco hip hop, acid-jazz.
Student clubs
Formerly, social life flourished in student clubs, cultural and musical. Today, in the face of huge cafe, alcohol and disco competition, clubs have lost some of their attractiveness. But they still exist, and the events they organize, more or less, but they still attract people interested in this form of spending free time.
• Deafness, ul. Reymonta 17B
• Under the Lizards, Main market 8
• Under the lacing, ul. Bydgoszcz 19B,
• Rotunda, ul. Oleandry 1,
Night clubs
• Blue box, ul. hospital 38,
• Strawberry Club, ul. st. Thomas 1,
• In Muniaka, ul. Floriańska 3
• To Louisa, Main market 13,
Casinos
Gamblers can compete to win at two of the hotel's Continental Casinos (ul. Home Army 11) and Forum (ul. Konopnicka 28).