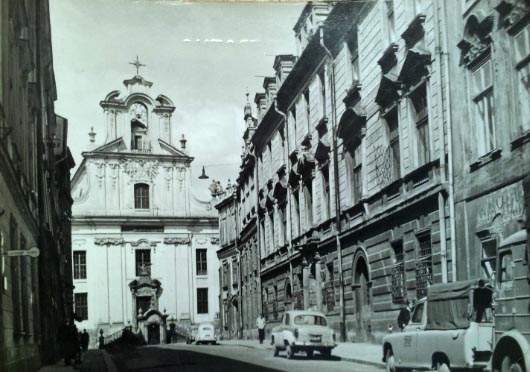 st. Jana
Directly in front of the northern exit from the Sukiennice, Św. Jana, at the northern outlet, it is characteristically closed with the ornate facade of the Piarist church. St. Jana is parallel to ul. Floriańska from one side and to ul. Sławkowska on the other. It is intersected by two blocks: the one closer to the Market Square is ul. st. Thomas, and closer to the Piarist Church is ul. st. Brand. Ribbon ul. st. John runs in the shadow of two churches (Piarist and St.. Jana) and tenement houses once belonging to great magnate families.
Nr 20 Kamienica Popielów or Kołłątajowska has an ornate portal and the appearance of a palace transformed in the Rococo style by Francesco Placidi. One of the owners was Hugo Kołłątaj, but the Popiel family passed into the social history of Krakow, which organized social Thursdays for the artistic and intellectual elite of the city.
Nr 22 Montelupich tenement house from the 16th century, decorated with a lush gargoyle, was through 12 the nineteenth century. the seat of the Jan Mieroszewski theater.
Nr 30 Peacock House, is taken by the exclusive French Hotel famous for its good cuisine; above the portal there is a relief of a peacock, dating from the 16th century.
Nr 11 The classicist Wodzicki Palace attracts attention with a balustrade attic with allegorical sculptures.
Nr 12 The Krauzowska tenement house from a gothic one was rebuilt into a late renaissance one. One of the owners, Christopher Krauze, city ​​councilor, he did, that in 1661 r. The City Council adopted the decisions, on the basis of which the Polish eagle was placed in the coat of arms of Krakow.
Nr 14 Andrzej Mleczka's Gallery on the ground floor attracts like a magnet.
Nr 15 Lubomirski Palace adjacent to the Czartoryski Museum. It was established in the 17th century. from three connected tenement houses. Currently, it houses the French Institute.