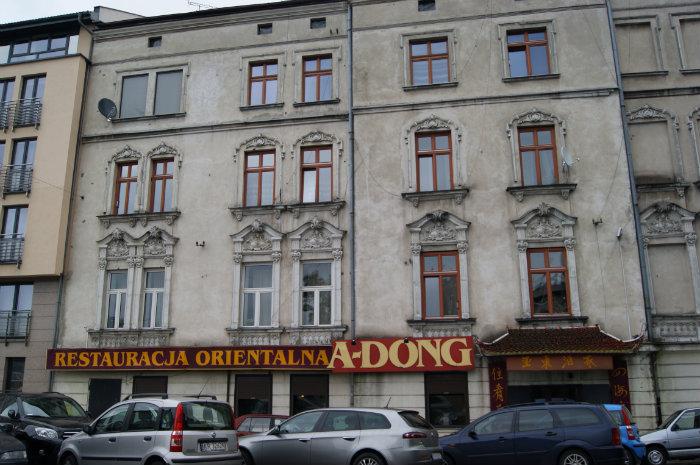 Other nations' cuisines
A Dong
the. Brodziński 3, tel.6564872
Among the many Chinese restaurants, And Dong stands out for its great exotic food, elegant decor, nice atmosphere and efficient service. For the brave – stuffed octopus or shark fin soup with a rather refined taste. It is worth ordering the great hun-tun soup and Mongolian cauldron with seafood, for dessert, for example. flaming bananas. You can pay by credit card.
Open 11.00-23.00.
Lotus
the. Czarnowiejska 8, tel. 6324311 Chinese restaurant run by people from the kung-fu club and the neighboring club. Therefore, no one should be surprised by the shouts and other noises coming from behind the wall. Those interested can even sign up for classes. The restaurant is decorated with simplicity, as intended, that the client should first of all feel at home. The kitchen serves traditional Chinese dishes, especially attractive for vegetarians, because there are many vegetarian dishes among them. Meat lovers should try beef, which is prepared here in several ways. You can order dishes by phone, but you have to pay for a taxi. Open 12.00-22.00.
Ariel
the. Wide 7,17, tel.4213870
The restaurant is situated in an old historic tenement house in Kazimierz. It actually consists of three premises: first, connected with the gallery, offers more sophisticated dishes of traditional Jewish cuisine. Two other rooms – stylized as the interior of an apartment and the room of the former mikveh, have a more intimate character. The Jewish resounds in the evenings, gypsy or Russian music (played live). Fried goose livers with raisins and almonds are highly recommended, stuffed cabbage in grape leaves or Jankiel's soup. You can pay by credit card.
Open from 10.00 to the last guest.
Mexican taco
the. Poselska 20, tel.4215441
Classic Mexican restaurant. In very spacious interiors, you can explore the flavors of Mexican cuisine. You can choose between burńto and taco, of course, you can choose between fillings and washed down with Mexican Corona beer.
From Pietra
Main market 17, tel.4223279
An Italian restaurant and pizzeria in the basement of the Renaissance Hetman's Tenement House. It enjoys the reputation of one of the best Italian restaurants in Poland. What Italians eat apart from spaghetti and pizza? Try roast beef in pepper sauce, salmon carpaccio and something of the dessert delicious. It's not the cheapest sweets, but they taste delicious. You can pay by credit card. Open every day. 11.00-24.00.
Cyrano de Bergerac
the. Sławkowska 26, tel.4117288
A very elegant French restaurant in stylishly decorated medieval cellars. Colorful stained glass presents "patroness" the premises, the legendary long-nosed poet – Cyrano de Bergeraca. The dishes are prepared by a chef from France, and there are such specialties among them, like frog legs, liver pates, or slices of beef with apricots. In addition, a rich selection of tarts and the best French wines. French music makes it pleasant to consume.
Open every day. with ex. pn. from 12.00 to the last guest.
Gulliver
the. Bracka 6, tel.4302466
Extremely charming French style restaurant and of course French cuisine. The dishes served here are simple but original and, above all, very tasty. It is worth ordering asparagus with béchamel sauce and tuna toboulet (cold couscous salad, vegetables and herbs).
Open from 9.00 to the last customer.
Orient Express
the. Poselska 22, tel.4226672
Our popular tarts are not yet very competitive with traditional pizzas. What is the difference between them, you can find out, by visiting the Orient Express. They serve various kinds of tarts with various fillings. Among the dishes, which is worth trying, are also (not traditional at all) pancakes and pork loin with fruit. For this delicious desserts.
Open 13.00-24.00.
country
the. Poselska 24, tel. 4216273 Corsican cuisine offering the inexhaustible wealth of Mediterranean fruits. The menu includes. fish soup, mule, baked sardines, fried langoustines, etc.. For fans of more traditional dishes – beef tenderloin in roquefort sauce.
Interior, as befits the Corsican atmosphere, stylized as a port tavern. Moderate prices and you can pay by card. It is better to book places in advance.
Open from 12.00 to the last guest.
The Cellar Under the Garden
the. Jagiellonian 6, tel.4216029
The medieval cellar Under the Garden in Nice, intimate atmosphere serves mainly Breton dishes, but also Polish and Chinese. The specialty is French galette pancakes based on buckwheat flour. It is especially cozy here in winter, when there is a fire in the fireplace, in summer, the basement "goes out to the street", to the adjacent yard to be exact. Nice and inexpensive. Lunch for two 30 – 50 PLN.
The basement is open every day. from 13.00 to the last guest.
At the Scot
the. Mikołajska 4, tel.4221570
A cozy interior with a fireplace with a true Scottish character. Waiters in Tartan attire serve traditional Scottish dishes (szkocki haggis) and Scotch whiskey. There is of course Scottish music and the original cider. Moderately expensive, You can pay by credit card. Open from. 12.00-24.00.
He is Ziyada
the. Jodłowa 13, tel.4219831, 4297105
You have to make some effort, to get here. First we go to Przegorzały (coaches #109, 209, 229, 239, 259, 269), followed by a 15-minute uphill walk. However, it is worth taking a little trouble. The restaurant is located inside the castle in Przegorzały near Krakow. Situated on a hill, guarantees a unique view of the Vistula River, around Tyniec and Bielany. The dishes served here have a European character, but you can also try spicy Kurdish dishes with intriguing-sounding names, such as a Hammurabi chop or a Kurdish braid.
Open 12.00-21.00.