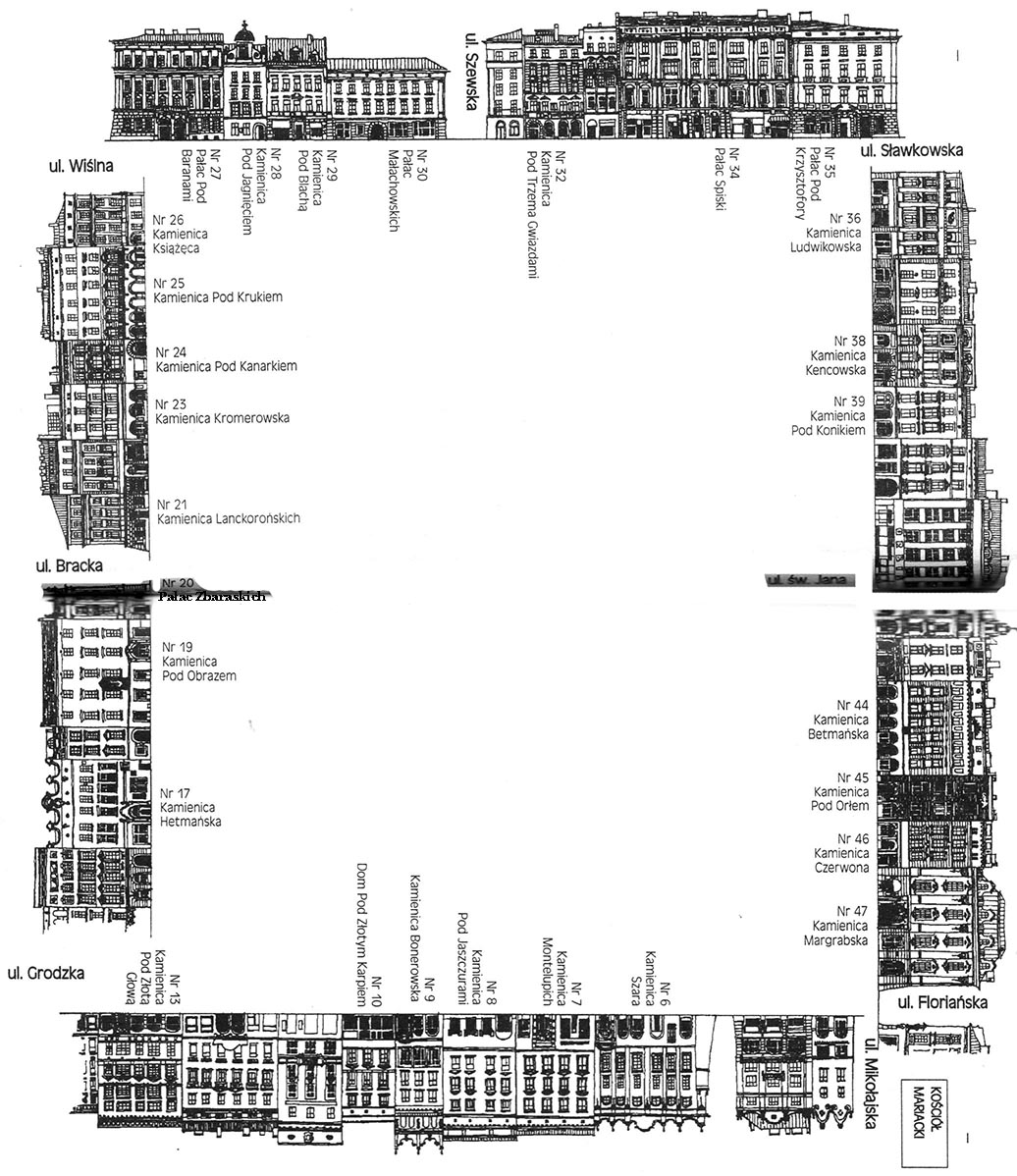 From Grodzka to Wiślna
• No. 15 The Pinocin tenement house (Dziannottich), nr 16 The Morsztynowska tenement house and no 17 The Hetman's tenement house remained in the years 70. of our century combined and put into use of the famous Wierzynek restaurant.
The history of the Wierzynek merchant family begins in the 14th century. It was a can, big family, whose members contributed to the city primarily in two areas: Mikołaj Wierzynek St. and Mikołaj Wierzynek the Younger. financed the expansion of the presbytery of St. Mary's Church, and the latter went down in history as the host of the lavish feast of 1364 r. to which sat the crowned heads of Europe: Kazimierz The Great, Roman emperor and Czech king, king of Denmark, king of Hungary, king of Cyprus, Jerusalem and Armenia, Duke of Świdnica, Pomeranian Duke, the Duke of Masovia and the Duke of Brandenburg.
• No. 19 The tenement house under the painting (also known as Pod Modrym Lwem) it used to belong to the Cellari and Wentzel families. The painting of the Madonna and Child visible on the first floor was painted in 1718 r.
• No. 20 Herman's Palace from Racibórz, also known as the Potocki Palace, Jabłonowski or Zbaraski, very ornate in the upper part, built in the 16th century. The last reconstruction in the neoclassical style took place in the 18th century.
• No. 21 The Lanckoroński House or Pod Ewangelistami belonged to the outstanding Hozjusz families, Morsztyn, Lanckoroński. The remains of the former 17th-century chapel can be seen on the first floor. At the beginning of our century, there was a pawn shop here.
• No. 23 Tenement House Kromerowska in the years 1791-1851 was the seat of the famous Wieland family confectionery, originating in Switzerland. W 1769 r. The Pope of the Russian army occupying Krakow was punished in front of this tenement house, who was baptizing a child in the Vistula, drowned them. The punishment was to hit a bare ass five hundred times with a stick in front of a crowd of onlookers.
• No. 24 The Pod Kanarkiem tenement house was originally built in the Gothic style and later rebuilt in the Baroque style. In the past, there was an image of a canary above the entrance.
• No. 25 The Tenement House under the Raven, where in the 19th century. Anna Wąsowiczowa hosted scholars at the first art salon in Krakow, writers and the cream of Krakow's society.
• No. 26 The Prince's House or the St.. John Capistrano – supposedly the sorcerer Twardowski lived here.